First Mutual Holdings Limited is a leading financial services group that is committed to creating value through risk management, wealth creation and wealth management, predominantly in the insurance sector.
Our brand is the financial ally that plays an integral role in preparation for a better tomorrow for individuals and institutions, by availing them the economic dignity of being prepared for life time obligations through our subsidiaries.
Our professional and client-centric team is solution driven, and cares enough to go beyond and provide straight forward tools that create sustainable value for our customers. We have diverse interests in life assurance, health insurance, short term insurance, reinsurance, savings, wealth management, as well as property through our vast business portfolio.
Group Executive Committee
First Mutual Life offers a wide range of innovative products through its two main businesses, namely Employee Benefits and Individual Life Benefits business. First Mutual Life's primary business activities are the provision of life assurance, retirement benefit products and other long-term financial security products. The company continues to be a pacesetter in the market in producing uniquely innovative life assurance products.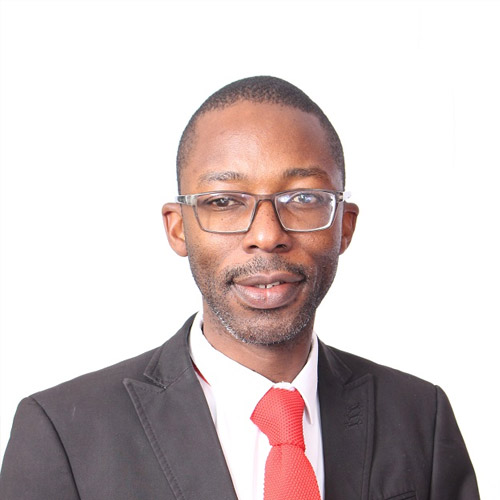 Willie Faston Chibaya
Acting Managing Director
Willie has more than 15 years working experience in various capacities in the financial and pensions sector, at different institutions.  He joined First Mutual Life Assurance Company as the   Consultancy Services Manager responsible for client interface on all pensions and risk related solutions.  Previously, he worked for an insurance company listed on the Zimbabwe Stock Exchange as a Senior Client Relations Manager.
He holds a Masters in Business Administration Degree, an Honours Degree in Statistics with the University of Zimbabwe (UZ) and a Postgraduate Diploma in Financial Planning with the University of Freestate (SA).

Madeleine Wadyehwata
Individual Life Business Administration Executive
Madelene joined First Mutual Life in 1994 as a New Business Administrator and rose through the ranks  as Underwriter's Assistant, Trainee Underwriter, Underwriter, Assistant Manager Underwriting up to an Underwriting Manager.
Her experience in life administration business spans over 25 years. She is the chairperson of the Life Underwriters Association of Zimbabwe, facilitating the enhancement of technical skills for the upcoming Life underwriters in the Industry and promoting communication amongst underwriters and claims assessors in the Industry. She is an examiner of the Insurance Institute of Zimbabwe (IIZ).
Madalene is a Chartered Insurer and qualified as an Associate (AIISA) and a Fellow of the Insurance Institute of South Africa (FIISA).
Nkosikhona Ndlovu
National Sales & Distribution Executive
Nkosikhona Ndlovu has more than 10 years experience in Senior management specializing in brand management, business strategy formulation, customer relationship management, business development, change management and marketing strategy. His experience encompasses the manufacturing and service industries. He completed a three year postgraduate management traineeship with Astra Holdings Limited specializing in business strategy formulation and implementation. He has held several senior management positions including Chief Marketing Officer (Merlin Limited), Branch Manager (ZB Life Insurance Bulawayo) and Managing Director (Dreyton Textiles).
EMBA, Msc Banking and Financial Services(NUST), BBS (Hons) ( UZ), IMM(RSA).

Madzishe Chipunza
GENERAL MANAGER FIRST MUTUAL FUNERAL SERVICES
Madzishe is the General Manager of First Mutual Funeral Services.  He joined First Mutual Life Assurance Company in 1993 rising through the ranks to become the Marketing and Distribution Executive in charge of the products distribution and branch network.
In 2008 he was appointed to run Dunamis Advisory Services as the Principal Consultant (an Exclusive Franchising Agency with a focus on the Distribution of Corporates business for the various First Mutual Holdings Limited SBUs business lines) leading to his current appointment.
Madzishe is a holder of a Bachelor of Commerce in Marketing from the Zimbabwe Open University.
First Mutual Health is a leading medical aid insurance scheme in Zimbabwe that provides exceptional medical aid cover at competitive rates. With thousands of members cutting across a wide spectrum of the market from non-profit making organisations, government institutions, mining, education, individuals and commerce, we offer the perfect blend of experience, agility and innovation to service our membership exceptionally.
Douglas is an accomplished business leader and Group Chief Executive Officer of FMHL. He holds a Bachelor of Science Honours Degree in Mathematics (University of Zimbabwe), is a qualified Actuary with more than 22 years' experience. He is a Fellow of the Institute and Faculty of Actuaries of the United Kingdom 1999 (FIFA), and is also a Fellow of the Actuarial Society of South Africa (FASSA). Douglas started his actuarial career with Old Mutual in 1990 and worked in both the Harare and Cape Town offices until 1999, when he joined First Mutual Life. He rose through the ranks to become Managing Director of First Mutual Life in 2003 and Chief Executive of First Mutual Limited in 2004.
Douglas was instrumental in setting up First Mutual Reinsurance Company (FMRE Property & Casualty), TristarInsurance Company and African Actuarial Consultants from a Division of First Mutual Life Assurance Society. His career has seen him at the helm of Altfin Holdings and First Mutual Limited. In addition, Douglas is involved in community transformation initiatives focusing on education. He works closely with national development organizations and is the past chairman for Zimbabwe National Statistics Agency (ZIMSTATS). He serves on a number of boards and is a past chairman of Actuarial Society of Zimbabwe.

Tafadzwa Makoni
Tafadzwa is a director of Rapha Trust and its Associates, T. A. Makoni Dental Care Services P/L, Celebration Ministries International and FMRE Property and Casualty
He is an MBA Lecturer for Nottingham Trent University; Chairman of the Practise Management Committee.
He holds a DBA with Rushmore University, MBA with Nottingham Business School (UK), Doctor of Dental Surgery (Greece) and Certificate of Proficiency
James was the Group Finance Executive with CIMAS Medical Aid Society from 2007 to 2013.
He introduced hard currency billing to achieve stability in the face of hyperinflation and set up a uniform budgetary format for the Group for ease of consolidation and reporting.
He is a past Director of various institutions including NicozDiamond Insurance
James is a Chartered Accountant and a holder of a Bachelor of Accountancy Degree.  London
First Mutual Reinsurance is involved in the provision of reinsurance security in all classes of general insurance and life & health insurance, with a stable credit rating of BBB+ by Global Credit Risk (GCR). In addition, First Mutual Reinsurance trades on a strong retrocession panel with A rated regional and international securities.
The company also provides a diverse range of technical training and risk management services as a total risk solution to its clients. First Mutual Reinsurance also has a strategic business unit call FMRE Property & Casualty in Botswana.
First Mutual Wealth is a registered Investments Manager under the Securities and Exchange Commission (SEC). It offers a wide variety of Wholesale Investment Products of Stand-alone Segregated Portfolios to Pension Funds, First Mutual Group Companies and High Net-worth Clients. It is also involved in the unit trust business which enables the company to offer investment products to the mass market through its affordable and flexible Individual Investment Accounts.

Thomas Mutswiti
General Manager
Thomas has thirteen Years (13) experience in Financial Markets with two of these having been spent in Banking Sector (Retail, International Banking and Treasury Operations) and 11 Years in Asset Management Industry covering Fund Management, Investments Research and Analysis and Strategy Facilitation.
Currently he manages an investments portfolio with more than $260m FUM with an actively managed portion of $180m spread across all asset classes. The role entails formulation of the investment strategy in liaison with clients, asset allocation and stock picks, trading counterparties determination & attendant risk management.
Thomas is an Ex officio member of the First Mutual Holdings Group Board Investments Committee and First Mutual Wealth Management (Pvt) Audit Committee and Main Board responsible for Investments Strategy recommendations, implementation and monitoring. Member of First Mutual Holdings Group EXCO.
He has trained Pension Fund Trustees on Investments Management and Analysis.
Participated in the Zimbabwe Independent Quoted Companies Survey & the Zimbabwe Independent Banks & Banking Survey 2017 Report.
He is a Non-Executive Director at Bulls n Bears (Pvt) Ltd, a financial and tech information aggregation company with specific focus on Financial Literacy, leveraging digital platforms for brand and product growth and CRM and a Trustee of the First Capital Bank Employee Share Ownership Trust.
Thomas holds a Masters in Business Administration degree (UZ) majoring in Financial Markets, BComm Finance Degree (Honours) from the National University & Science Technology and the Institute of Bankers Zimbabwe (IOBZ) Diploma. Attended various Leadership Development Programmes including most recently the Pathways Africa Management Development Programme, Success Motivation International Dynamics of Successful Management as well as Colonnade Business School. Hold certificates from Euromoney for Financial Forecasting and Analysis, among other management and technical trainings. Currently a CFA Level III candidate.
Ngaakudzwe Gumbo
Head Fund Management & Research
Ngaakudzwe has over 10 years of experience in corporate debt instruments and investment management gained at Nedbank CIB in South Africa, and more recently an Alternative Investment Fund domiciled in Mauritius with a focus on Sub-Saharan Africa.
As Fund Manager at First Mutual Wealth, he supports the General Manager in overseeing management of Traditional and Alternative Investments portfolios. He is a holder of an MBA with Henley Business School (UK), amongst other qualifications and currently studying towards attaining Chartered Alternative Investments Analyst charter.
William Mutume
Head Business Development
William heads the Business Development department of First Mutual Wealth Management. He has more than 7 year's practical experience in Investment Banking, Business Analysis/ Development, Investment Management/Advisory and Microfinance Management. Furthermore, he has experience in Fund Management and general Treasury Management functions such as Front Office Trading, Trade Finance Dealing, Treasury Business Development and Marketing. He joined First Mutual Wealth in 2016 as Head of Sales and Marketing to set up both Wholesale and Retail Investment Business Development for the company. William is a member of the Marketers Association of Zimbabwe and the Zimbabwe Institute of Management.
William is a holder of BComm Banking (NUST) Degree, MSc Finance and Investments (NUST), Diploma in Business Administration, Executive Certificate in Investments and Portfolio Management and is a CFA Level III Candidate.
First Mutual Microfinance ("FMM") is a registered micro-lender under the Reserve Bank of Zimbabwe. The Company offers a diverse range of products including personal loans, SME loans, agricultural loans, asset loans and order financing. The product offering is skewed to productive and financially excluded markets-utilizing loan structures such as value chain and group financing.  The FMM team provides innovative customer centric financial solutions with a view of promoting outreach and a sustainable economic environment.
First Mutual Properties Limited is a public listed property company incorporated in Zimbabwe and its principal activities are property investment, development and management. First Mutual Properties actively manages a diverse property portfolio that spans office parks, Central Business District (CBD) retail, CBD offices, suburban retail and industrial. The growth of the company is premised around property acquisitions and developments.
Oyster Real Estate Oyster Real Estate is the trading name for First Mutual Properties. Oyster, a fully licensed entity, provides professional property services that include property management, facilities management, property development, property investment and valuations.
First Mutual Funeral Services ("FMFS") primary focus is the provision of funeral services that caters for the needs of the Zimbabwean market.  The company offers clients a choice to get full funeral services packages or shop from a range of ancillary service and products that meets their needs.  To ensure guaranteed quality and value for money for its clients, the company will commission a casket manufacturing factory and harness its skills and talent to provide world class caskets and related products for the local market and export.